Star Wars: The Force Awakens star Daisy Ridley closed down her entire Instagram account shortly after receiving backlash over a post about gun violence.
The drama began after Daisy witnessed the tribute to those lost to gun violence at the Teen Choice awards Sunday. She took to Instagram and Facebook to express support for the victims, DailyMail reported.
The 24-year-old posted a picture of herself with the caption, "Thinking about how lucky I am like……Serious bit: as I sat in the audience yesterday tears were streaming down my face at the tribute to those that have been lost to gun violence.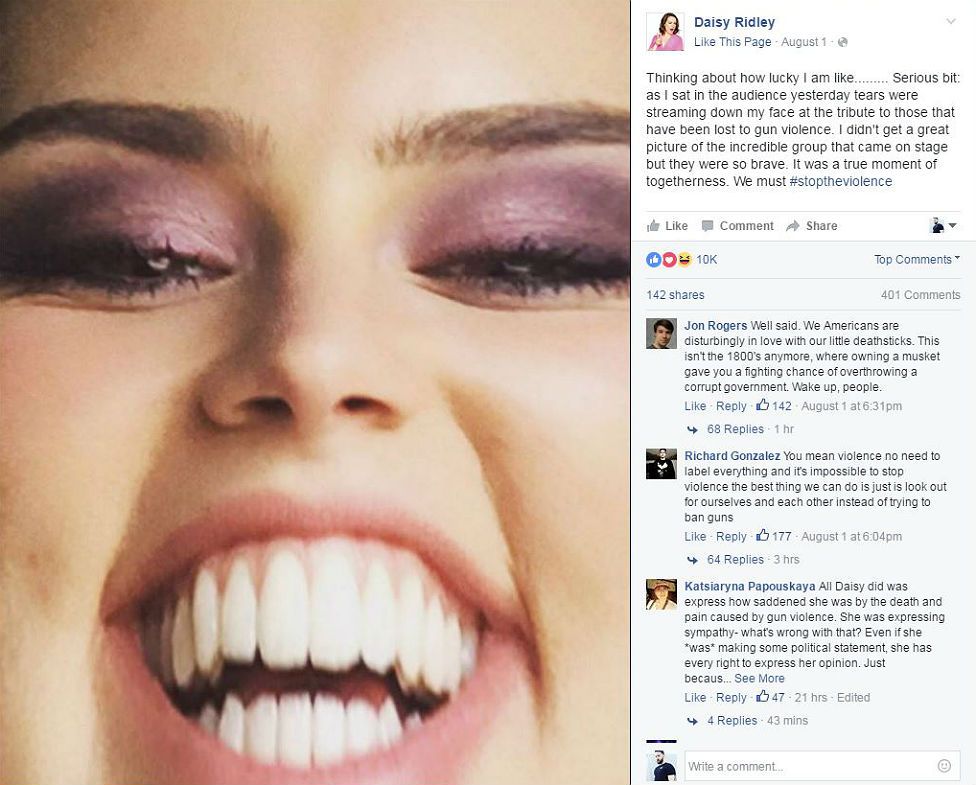 Backlash: The silly picture and serious post sparked debate in the comments. | Facebook
"I didn't get a great picture of the incredible group that came on stage but they were so brave. It was a true moment of togetherness. We must #stoptheviolence."
The seemingly uncontroversial post received a mixed reaction. Some people expressed support for Daisy's position, while many gun proponents interpreted the post as a statement about gun ownership – and weren't shy about criticizing her, and even trying to silence her.
Both Facebook and Instagram posts have since been deleted, but thenerdybird.com managed to screenshot some of the comments.
"Says the woman who kills people with guns in movies. Such hypocrisy in Hollywood. Just shut up, Ridley and make another Star Wars movie," one man wrote.
Another commented, "Please do not start with any liberal statements or movements. We are all against violence. People kill people guns don't. Don't ruin Star Wars for any of us."
Shortly afterward Daisy deleted both posts and deleted her entire Instagram account. She reactivated it briefly to release a statement before deleting it again.
"I just want to be on my phone less!" Daisy wrote. "Trying to be more present and all that and got a busy few months ahead so wanted less distractions… It's all good! 🙂 I always appreciate the support and love the Instagram community! X."
The actress only joined Instagram last year. She was known for posting funny and positive messages, as well as speaking out on self-esteem, body image, and her experience with endometriosis.