Orlando Bloom has opened up about the moment he first laid eyes on his fiancée Katy Perry.
The actor recalled his first encounter with the popstar at the Golden Globe Awards in January 2016, where Orlando was presenting an award.
"So I stood on the stage, gazing out at the audience and there she was, just sitting amongst the crowd," he told The Mirror.
"And I remember she was wearing this beautiful pink dress and I was just like 'Wow; I think that's Katy Perry."'
The 43-year-old remembered Katy was sitting at a table next to Denzel Washington, who had just been sent over a box of hamburgers.
"You are given a lot to drink but not a huge amount to eat at the Golden Globes so everyone is a little loose and a little hungry," he continued.
"When I saw that box of burgers arrive, I wandered over and said to Denzel, 'Hey man, can I have one of those?' Denzel said, 'Sure,' so I took one and winked at Katy. And that was it."
The couple then attended an after-party, held by the now-disgraced Harvey Weinstein.
"We had a fun evening chatting and dancing and different things," Orlando shared.
"And then we embarked on this rather remarkable journey that got us to where we are today, which has not by any means been a Hollywood love story that you might want to hear about."
"It's taken its own course and gone on its own roller coaster of ups and downs."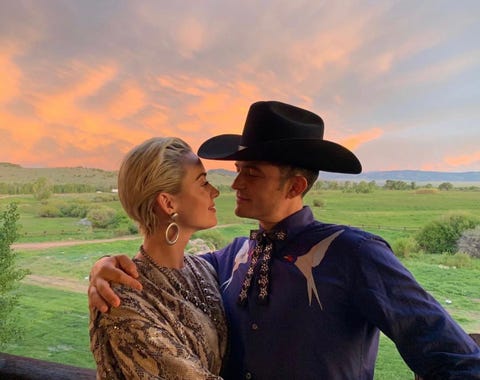 Katy and Orlando broke up in February 2017, before they reconciled in April the following year, and became engaged on Valentine's Day last year.
Just over one year after they got engaged, Katy announced her pregnancy in the music video for her song Never Worn White in March.
Orlando is already father to a nine-year-old son named Flynn, who he shares with his ex-wife Miranda Kerr.
On the latest episode of Goss Chats, Goss.ie CEO Ali Ryan chats to Alan Hughes about life during the coronavirus pandemic.
The TV presenter admits working on Ireland AM has been a "life saver" over the past few months, and opens up about his fears over the future of his Cheerios Panto.
Goss Chats is sponsored by top aesthetic clinic Haus of JeJuve.